3-12-09 these are the actual T Shirts.
.
I have had several printings of Des Moines Dragway History T Shirts made. The shirts are selling for $20 + tax and shipping on Sizes S-XL (XXL & Larger will cost more). I will be able to give them to a number of you in person, so those will have no shipping. If you would like one, please contact me buy email, mail or phone and let me know what size you wear and what color you want.
larry49@dwx.com (515) 285-9745. The brand is Gildan pocket T Shirts with the original DMD logo on the front and back and the DMD History logo on the sleeve. The White and Off White are 100% cotton. I believe the Gray will have mostly cotton with a small poly blend. The shirts have already stirred up conversation, even out of state, when people who used to go to DMD see them. One guy was wearing his at Daytona Beach when someone familiar with DMD commented on his shirt. The colors available are White, off-White, and ashGray. So if you have a color preference, state that along with your size. The ink on the front logo will be Red and the back Black. That is the 2 colors the logos were on the original shirts. The original shirts were done by Bob Trostle.
As of 8-11-13 a new order has arrived.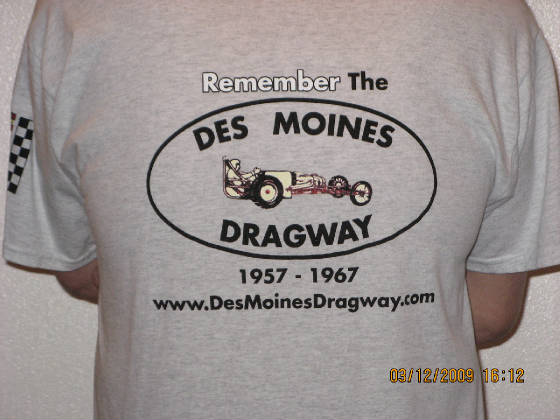 Back of Gray color shirt
Window Decals are available for the inside or outside
The inside decals are on a transperant material
The Outside decals have a White background
$3 each + sales tax and 50 cents shipping